Written by Dr. Andrew Lodge, Medical Director, Klinic Community Health
Over the last year, Klinic has had the honour of being a pilot site for the Manitoba Mino Pimatisiwin Model of Sexually Transmitted and Blood Borne Infections (STBBI) Care.  The goal of this project, led by Ka Ni Kanichihk (an Indigenous-led organization based in downtown Winnipeg) with funding from the Public Health Agency of Canada, is to support non-Indigenous agencies to provide culturally safe care for STBBI. Culturally safe service could mean many things, from ensuring our spaces feel safe and welcoming, to the manner we introduce services, to even where we provide our services.
At Klinic, we are committed to asking the question, what do the communities that we serve need? Sometimes this begins with humility and acknowledging that, though we are doing amazing work every day, we can likely still do better for some people, and that may mean thinking outside of the box, in this case, the box being the actual clinic.
Last month, Klinic had the honour of partnering further with Ka Ni Kanichihk on National HIV Testing Day.  A number of staff from Klinic were involved, working in conjunction with Ka Ni Kanichihk; by all accounts, the afternoon was a resounding success.
The event was Klinic's first experience with dried blood spot testing (DBS).  This is a form of testing for STBBI that involves collecting small blood samples on cards that are then sent to a laboratory for analysis. DBS testing is highly accurate and easy to perform and can identify several STBBI, including HIV, hepatitis, and syphilis.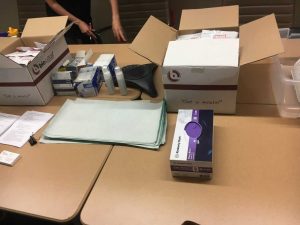 The other advantages to DBS testing are numerous. It can be carried out in the community. It does not require clinical expertise, and therefore can be performed by non-health care professionals.  There are less stringent storage requirements, so samples can be mailed in to the testing facility.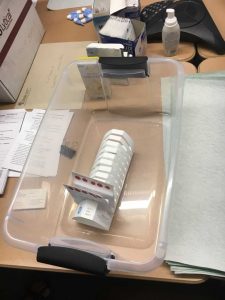 This has huge implications for STBBI testing at various gatherings of all types, as well as traditionally hard to reach demographics, and in remote communities in Manitoba's north.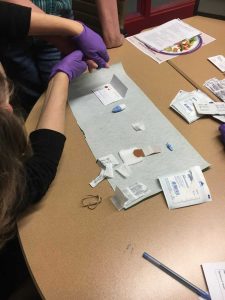 It should be noted that DBS testing is an adjunct—not a replacement—for more conventional testing that most would be more familiar with, such as STBBI testing in the more common laboratory environment.  DBS testing is an innovation that is being rolled out in order to address the STBBI outbreak that is spreading across the country, including a significant rise in syphilis cases here in Manitoba.
Nevertheless, DBS testing is a technology that has been employed for decades around the world, especially in low resource settings.  In that sense, Canada has come late to the dance.
Better late than never.
In an era where work on reconciliation is more urgent than ever, DBS testing provides an opportunity to collaborate with populations whom have often felt left out of the health care equation.  Engaging with Indigenous partners like Ka Ni Kanichihk is an obvious step in the sense that such measures can help lead the way in terms of reconciliation; but this model can be applied to other groups who have been shut out from the health care system as well.
This is an opportunity to increase access to testing and Klinic is fortunate to be at the forefront of this initiative.  DBS also provides a means of shifting health care outside the walls of the traditional clinic. In other words, it allows health services to meet people where they are at and helps deconstruct the power differential inherent in health care delivery.
We are looking forward to continuing to explore where these developing relationships and technologies lead us.